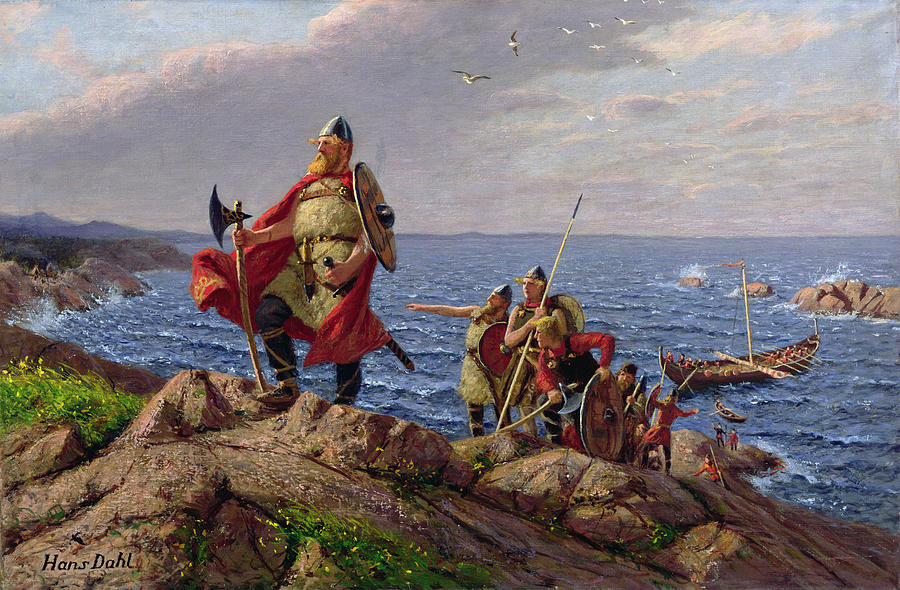 Leif Eriksson discovers America by Hans Dahl
While people are increasingly becoming aware of the fact that the Norse explorer Leif Eriksson was the first European to reach America, some 500 years before Christopher Columbus, few realise that he was there as part of a Christian mission. Fewer still realise that he was an Orthodox Christian. Having become a hirdman of King Olaf Tryggvason* in Norway, Leif had himself accepted baptism into the Christian faith, and had received from the King orders to travel to Greenland with a priest in order to convert the Norse settlements there. It was on this mission that his ships were blown off course, ending up in what he later called Vinland. After successfully converting the Greenlanders to Christ, Leif and his crew returned to this Newfoundland, building permanent settlements in what is now called L'Anse aux Meadows. These would almost certainly have included places of worship. While the Norwegian presence in North America was short lived, the fact that the first Christian presence on the continent was Orthodox is significant. It should also be noted that while King Olaf Tryggvason had accepted baptism at Canterbury in England, the first Christian rulers in Scandinavia were kinsmen of the rulers of Gardarike, or Kiev (The Rus, of course, were not Slavs but Scandinavians, most hailing from Sweden). Olaf had himself grown up under the protection of Grand Prince Valdemar (Vladimir), who famously converted the Rus to Christianity in 988. Norse Christianity was therefore coloured by Eastern influences from the beginning. Indeed, Harald Hardrada, the last of Norway's pre-schism Christian kings was openly rebuked by Rome for easternising the Norwegian Church by bringing into the country a number of priests and bishops, not only from Novgorod and Gardarike, but also Miklagard (Constantinople), where he had headed the Varangian guard in service of the Byzantine emperor. The first Christian presence in the Americas, then, was not merely Orthodox in the sense of pre-schism, but would have had ties to the cultural and ecclesiastical traditions through which the same Orthodox faith has been introduced to America in modern times.
*Not to be confused with the later king,
St. Olaf Haraldson
, whose memory is celebrated on the 29th of July (Olsok).